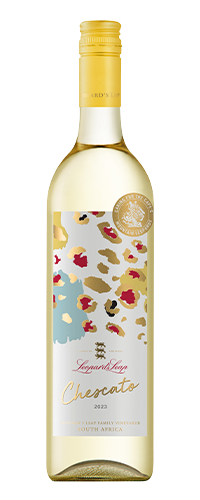 2023 CHESCATO
R 70.00
excludes shipping
10% less when you buy 6 bottles!
Enjoy with a roasted tomato-based pasta or beef brisket. Also to be enjoyed with rich, cheesy gratins and an open-fire grilled steak. The more adventurous can experiment with dark chocolate-inspired desserts.
Variety:
70% Chenin Blanc & 30% Muscat
Palate:
All the juiciness of ripe summer fruit, beautifully balanced by crisp acidity.
Download Tasting Note PDF
5.5 g/l
10,4% Vol
3,43
23,7 g/l
The sunshine of Chenin Blanc meets the vibrancy of Moscato in a bright and beautiful wine with a lovely perfume and a flirty touch of sweetness. The Chenin is from the cool town of Darling and the Moscato from Bonnievale just outside Robertson. The Chenin Blanc was picked at 21° and the Muscat at 20° Balling to ensure lower alcohol. The two varieties are vinified separately and then blended to achieve the perfect balance between Chenin and Moscato. A small percentage of the wine's alcohol is also removed and then blended back to get a good balance between fresh acidity and fruitiness.