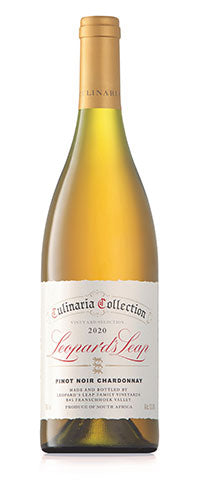 Culinaria Pinot Noir Chardonnay
R 120.00
excludes shipping
Leopard's Leap Culinaria Pinot Noir Chardonnay has a well-defined structure and inviting colour and bursts with prominent flavours of pomegranate and citrus palate. Combining the characteristics of both a white and a red wine, this blend is exceptionally flexible in food-and-wine matching.
Variety:
The blend consists of Pinot Noir (80%) and Chardonnay (20%).
Ageing:
Pinot Noir grapes were harvested at between 20 and 21 degrees Balling. Chardonnay grapes were harvested at between 19 and 21 degrees Balling. Both varieties were hand-picked and whole-bunch pressed. The juice was allowed to settle, then fermented separately. The wine-makers crafted different blends to ensure the perfect balance of Pinot Noir and Chardonnay.
Download Tasting Note PDF
6,1 g/l
12%
3,20
2,2 g/l
The Pinot Noir component from Elgin enjoys winds that cool down the whole valley, while the vines grow in well-drained soils – conditions that contribute largely to the varietal flavours of this variety. The Chardonnay component from Durbanville originates from vines growing on south-easterly slopes situated close to the Atlantic ocean, where a cool growing climate ensures favourable slower ripening.