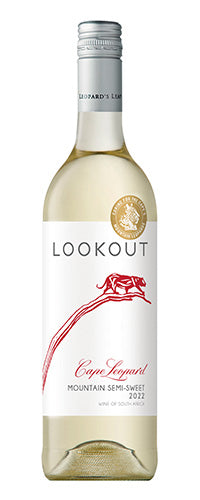 Lookout Semi-Sweet
R 60.00
excludes shipping
Tastes like tropical fruit and sweet lemon. Enjoy with interesting conversation and spicy food, anytime of day!
Nose:
Aromas of peach and pear, gentle tropical fruit and sweet lemon intertwined with subtle floral notes
Variety:
Chenin Blanc (58%), Muscat (40%) Columbar (1%) and Sauvignon Blanc (1%)
Style:
A medium to full-bodied semi-sweet white wine with New World complexity that will seduce the sweeter palate.
Palate:
The nose follows through on the palate with delicate apple blossom flavours and subtle citrus notes. The sugar-sweet character of this wine is beautifully balanced by the natural acidity, creating a vibrant burst of zestiness in the aftertaste.
Download Tasting Note PDF
5,6 g/l
11,86% Vol
3,5
27 g/l
Two specific vineyards in the Robertson and Darling areas were selected for later harvesting. Fermented at 14°C, whereafter the fermentation process was stopped at a sugar content of 27 g/l.